America's Army (No Honour)
Call of Duty
Call of Duty 2
Call of Duty 4
Call of Duty: United Offensive
Counter Strike: 1.6
Counter Strike: Condition Zero
Counter Strike: Source Tick 100
Counter Strike: Source Tick 66
Counter Strike: Source Tick 75
Day of Defeat
Day of Defeat: Source Tick 100
Day of Defeat: Source Tick 66
Day of Defeat: Source Tick 75
Dragonball Source
Enemy Territory Quake Wars
Far Cry
FSHost
Garrys GMod 10
Halo
HL2: Deathmatch
HL2: Dystopia
HL2: Goldeneye Source
Insurgency
Medal of Honor Allied Assault
Quake 3
SWAT 4
Team Fortress 2
Unreal Tournament 2004
Wolfenstein: Enemy Territory
Game Servers
Game Server renewal is a very easy process with our unique control panel. To renew your game server, web hosting or any other service we provide such as voice communication you can log into your Profile and navigate through 2 very simple pages to complete your renewal.
Upon purchasing the lowest amount of time for your game server you will be given one month from that day to either renew your server or do nothing. Payments and renewals for any game servers can only be made by you and there is no requirement to cancel the game serveras no subscription ever takes place. You pay and play, its that simple and when you decide to take a break from gaming you can choose not to add any game time credits to your game server and then on the date of renewal we will shut your service down.
The following steps include all the relevant information you need to know on how to renew your game servers.
First of all you should log into the website if you have not already done so. It is the main www.invision-gaming.co.uk site you need to be logged in to, not the control panel.
From here you can navigate toyour individual profile page. This is where you can view all of your available services.
You can then click on the service you wish to renew, we are doing Game Servers so we can click on the game server option on the left portion of the profile page.
On this simple page you can see what game servers you have running with us, its simple to then click the drop down button on the right of your server to then reveal the 'Renew' game server button. Click this.
Its now a simple task of following instructions to make your game server renewal. The time will be added immediately to your game server.
If you have any problems with the instructions you can contact sales to have them guide you through the task.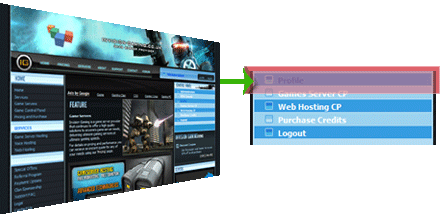 When you have logged in to your Profile, if you press Game Server, or any other service you will be able to select either your Active Services, or Inactive, depending if the service has expired. You can then revewla the 'Renew' button by pressing the drop down on the page which is to the right of the page. Once you press this you will revewal the Renew button and then from there it is an easy 2 steps to renew.