America's Army (No Honour)
Call of Duty
Call of Duty 2
Call of Duty 4
Call of Duty: United Offensive
Counter Strike: 1.6
Counter Strike: Condition Zero
Counter Strike: Source Tick 100
Counter Strike: Source Tick 66
Counter Strike: Source Tick 75
Day of Defeat
Day of Defeat: Source Tick 100
Day of Defeat: Source Tick 66
Day of Defeat: Source Tick 75
Dragonball Source
Enemy Territory Quake Wars
Far Cry
FSHost
Garrys GMod 10
Halo
HL2: Deathmatch
HL2: Dystopia
HL2: Goldeneye Source
Insurgency
Medal of Honor Allied Assault
Quake 3
SWAT 4
Team Fortress 2
Unreal Tournament 2004
Wolfenstein: Enemy Territory
Game Panel
Provided free of charge with all 'Gaming' and 'Voice' communication server is the flexible Gaming Panel TC Admin. With it you can monitor all of your servers through your web browser, upload any maps and if required you can restart your server with a click of a button.
Features
With the control panel you have total control over every single aspect of your game server. Not only do you have the ability to easily manage configs through the control panel, but you can also create new ones, upload files through the web interface or even delete un-needed files.
In addition to these you can also restart your game server or voice server with the press of a single button at any time. But the features don't stop here. For a full list of all the features navigate through the available options on left and select the features you want to see.
Sub-users

- If you have more then one admin in your clan that needs access to your servers you can easily request second accounts. With the TCAdmin you can easily have sub-user accounts, that allow different logins and have different permission and permissions for these sub-accounts.



Easy Config

- Using the built in config manager it is simple to change any of your server's configuration settings by using the web interface.



Mani Admin

- If your game server supports Mani Admin you can add and set permissions using the Mani Admin Customisation module linked with TCAdmin. It is simple to use and allows fast updates to your server's admin users.
---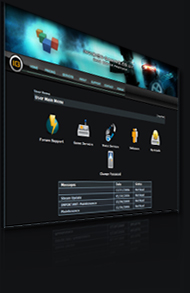 Posted By Kalyse

// Game Control Panel

We are currently having problems with the control panel for the game server.
The problem is causing people to not be able to log in to manage their server directly from the web accessible system. However, your server is unaffected for performance and connectivity.
This should be resolved towards the end of the day as we wait for a response from the developers of the control panel.
Created On Jan 20, 5:44 am |

Views: 57
Posted By Kalyse

// Game Control Panel

Game Server Monitor
Monitoring your Game Server remotely is something that is essential with any established or newly formed clan. Monitoring your Game Server allows admins and the gamers who have contributed to setting up your new community to keep a close eye on your game server activity and make sure that its running to a high performance.
There are a lot of different ways that you can Monitor a Game Server depending on what your intended use is. The majority of users are happy with just monitoring a game server for any changes in users that connect, this is essentially very useful for notifying you when your favourite server is getting activity, however many admins require extra functionality and will want to know when the server is not responding or has crashed.
Using our control panel you can use the Game Administration to very effectively monitor any changes in your game server and scan to see how many players are connected. It will also tell you if your game server is not responding.
Created On Apr 30, 10:07 pm |

Views: 7352
Posted By Kalyse

// Game Control Panel

HLSW Tool
HLSW Tool is a powerful administration tool that offers a fast and easy way to interface with a game server to retreive information about the server in a very manageable graphical user interface. The application allows you to add an array of servers to its repository and maintain a constant connection to any server continually retreiving that servers details including players connected and other player data. In addition to this feature HLSW also allows administrators to connect to a server through RCON and send commands directly to the server and retreive any of the servers command line output directly to their screen. This flexible and scalable application is a must for any administrator wanting to watch over their server remotely from anywhere in the world.

Created On Mar 27, 4:30 am |

Views: 3292
Posted By Kalyse

// Game Control Panel

Game Server Control Panel
TCAdmin
The game server control panel that we use is TCAdmin. The image on the left shows the possible features for a Counter Strike Source game server.
The icons on the game server cp desktop show:
Config Management
File Manager
Command Line Management
Server Administration
Game Update
Run Steam Update

Install Mods / Addons
Mani Admin Manager (If mani is installed)
Game Server Activity

Created On Mar 26, 9:07 pm |

Views: 12068